1984

Author

George Orwell

Genre

Social criticism, science fiction, dystopia
Own and read. 326 pages.
First read (June 2011)
[
]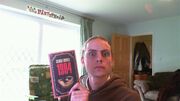 Journal
[
]
Got it for Christmas 2010, from Mark, along with Animal Farm.
Started reading it on June 10th 2011, after finishing Animal Farm actually. Animal Farm was quite short and I was in the mood for some more. It did turn out to be quite an elaboration of the same themes, indeed.
I finished it on June 18th having read it on buses to a school placement mostly. It was quite weird, I'm not sure how much I liked it. It was certainly readable, and interesting at points, but it didn't hit me like I thought it would. I suppose I'm glad to have read it, anyway.
Rating and awards
[
]
Number 8 on the BBC's Big Read
Number 4 on the 2006 World Book Day poll.
Reading Record
[
]
Previous book: George Orwell, Animal Farm
Next book: Greg Bear, Blood Music