Shogun

Author

Genre

Historical, political

Published

1975
Own and read.
First read (July 2011)
[
]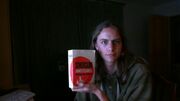 Format
[
]
2006 paperback Hodder & Stoughton edition, given to me by a customer at work. 1125 pages, 41 lines per page, 53 blank pages. 11.7 words per line[1], implying 512416 words in the book. About 62 characters per line[2], implying 2713232 characters in total, which at 350 5.5-character words per page gives us 1409 'standardised' pages.
Journal
[
]
On July 2nd 2011 it was handed to me randomly by a customer at the drive-thru at McDonald's! I saw that he was reading Anna Karenina and asked if he was enjoying it. He said no and we chatted briefly, he highly praised the book he'd just finished, Shogun, and when I asked for the author he reached into the back of his car and got it for me to have! I was quite pleased.
From the blurb I thought it sounded like the book of the movie The Last Samurai (in which a Western man gets stranded in Japan and more-or-less becomes a Samurai).
Started reading it on the 6th of July, after finishing Snow Crash. I was going to read Contact next (completing a run of three quite different science fiction books), but since it appeared in my life out of the blue and I was keen to read it, I thought I'd go for it before moving on to Contact. I aimed to read it in one month, hoping to return to the sci-fi books without having lost too much time, and I finished it on the 31st of July. Working 11 days in a row helped me read it quickly.
I liked it! It was very long, but an easy read. I learned some japanese :P I really liked the main characters, although the plot was probably a little simple. It wasn't related to The Last Samurai much beyond the western man in Japan, and there was a lot more to it than that. It was a bit like Feist actually, particularly the Empire trilogy.
Rating and awards
[
]
Reading Record
[
]
Previous book: Neal Stephenson, Snow Crash
Next book: Carl Sagan, Contact
Ratings, awards, mentions and recommendations
[
]
Links and references
[
]