2017 self-published LitRPG book by Andrew Seiple, about an animated teddy bear slowly leveling up and gaining skills in a world in which RPG mechanics are a reality.
Length
[
]
Volume 1: 240 pages, according to Kindle
Volume 2: 345 pages, according to Kindle
Maybe about 94% of that in standard pages (which was 350 5.5-character words, I believe, although it's been a while). I checked the first 3 chapters using the online version.
First read (December 2017-February 2018)
[
]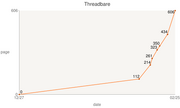 Format
[
]
Kindle version from my phone
Journal
[
]
Volume 1: Stuff and Nonsense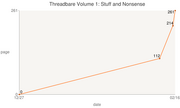 I definitely enjoyed it, even though I didn't read it quickly until I committed to it in February.
It was cute and strangely compelling. Perhaps because I was also playing Unravel at the same time, the idea of little animated soft toys going on adventures caught my imagination. I'd never read (or heard of) LitRPGs before, and I don't think I'd read a lot of them, but it was fun the first time. I was eager for Threadbare to unlock new skills but I do fear that that sort of carrot-on-a-stick has a limit.
1
Volume 2: Sew You Want to be a Hero
Read from Feb 16th to 25th. It continues to be entertaining seeing Threadbare progress from his humble beginnings. Despite it being quite a small story, I feel nostalgic for the first few chapters. Some interesting secrets seem to be on the cusp of being revealed next volume. I thought the drama and action were a bit tame this volume, in execution. Despite Threadbare and Celia joining up again, it wasn't exactly exciting. It reads like a simple, short story, but a good one.
1
Volume 3: The Right to Arm Bear
Read from Feb 25th to March 8th. It was alright. I enjoyed the series overall but not as much as the first and the beginning of the second volume.
1
Rating
[
]
1